This is a 2-part post of my (and Wifey's) first rock concert.
One of my colleagues gave me a pair of free tickets (worth S$65 each) to Avril Lavigne's concert in the Singapore Indoor Stadium (courtesy of Nokia), because she knows that I'm probably the only homosapian in the office who can appreciate "this kind of music".
Ok, here's a more appropriate picture.
Oh, never mind.
For those who do not know this fiesty lady, Avril is a Canadian Grammy Award-nominated rock singer, songwriter, charity associate, fashion designer, and actress.
And she's only freaking 24 years old (born Sept 1984).
Limpeh was once 24 years old too, but that was many years ago.
Sniff.
The child prodigy started singing church songs with her mama at the age of 2, joined numerous singing competitions (and proceed to win), and was signed on (not the Army) at the age of 16.
I am not very versed in the art of understanding the chimness of music categorisation, but I will term her songs as "fierce". They reeked of attitude, the unconstrained, don't give face, rebelliance of a teenagers. Something many of us can relate to.
As for the beauty of her skin, maybe here's the reason why. (Source: Wikepedia).
In the January 2003 issue of Seventeen magazine, she admitted to "snagging a bite of Matt's cheeseburgers every now and again." She said also she prefers not to eat meat, but will not say she's a vegetarian "in case anyone caught her eating meat".
I say God gives vegetarians better karma for sparing the animals.
Wifey noticed a ring at a particular finger of hers on the concert and proclaimed that she's married.
Me outdated liao. Don't pop stars in the past prefer to remain single (not to be confused with the word "virgin") for as long as possible so that they can concentrate on their careers, and continue to have more fans in love with them?
Well, my observant Wifey is right this time. She's hitched to Sum 41 singer Deryck Whibley, in a small little wedding with about 110 guests.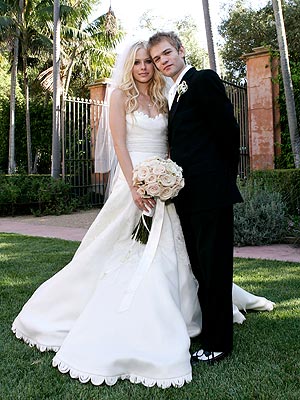 At the age of 21.
For a person to achieve so many at such a young age, I think she's lived a pretty fulfilled (though hectic) life.
About the Author:
Shingo T says hi to Avril fans.